Popular Chocolate Recipes you should know
20-05-2018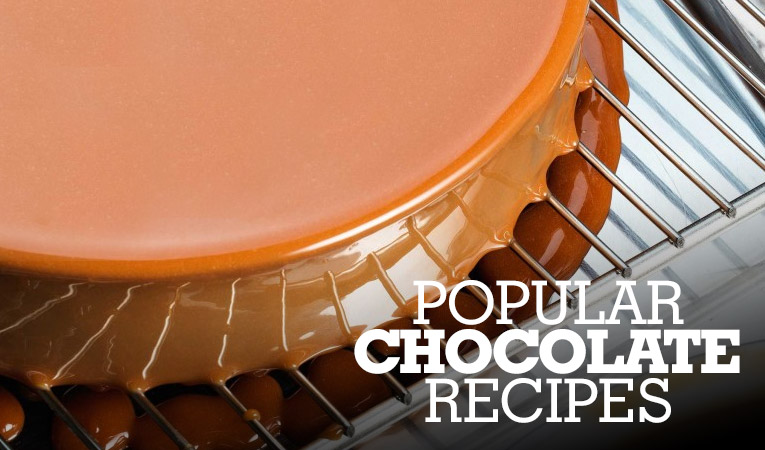 Satisfying your sweet tooth demands can be challenging with the improper sweetness proportions taken up for preparing even the simplest chocolate dessert. But, with our delightful chocolate supplies, things aren't going to remain the same, anymore!
To get the right quantitative mix of the chocolate demands, you need to have a look at our popular chocolate recipes, before pouring sweetness to your next chocolate dessert. It is very important to select the right couverture chocolate for a perfect recipe. We are pleased to list down 5 popular chocolate recipes for your next chocolate delight.
Milk Chocolate Glaze
Milk chocolate glaze contains the perfect texture and fluidity for being applied to frozen pastries. To prepare the milk chocolate glaze, you must remember to always heat it to a temperature of ±35°C.
Ingredients for a 500 grms of glaze:
Process:
Mix water, caster sugar and glucose syrup and heat upto 105 degree celsius. Directly pour the boiling mixture of chocolate, sweetened concentrated milk and gelatine mass, emulsify and let it cool down for 24 hours at 30°C.
Refer to this Callebaut Video for complete step by step process.
Dark Chocolate Pastry Cream
Dark chocolate pastry cream is amongst the richest and creamiest puddings to imagine. This can be used in cake fillings, tarts, pastries, cream puffs, cupcakes, etc.
Ingredients for a 500 grms pastry cream:
Process:

Mash caster sugar and egg yolk and add corn starch uniformly in it. Boil whole milk, adding the egg yolk and boiling again. Now, pour the entire mix into the chocolate, beat well and let it cool down in the refrigerator.
Chocolate Sponge
This is one of the most popular chocolate recipes followed by chefs around the world, mouth-wateringly moist and perfectly pared dark chocolate sponge base for any of your cakes and dessert with a powerful chocolate flavour.
Ingredients for a 500 grms chocolate sponge:
Process:
Melt the chocolate and butter at 45°C. Whip egg yolks, separately. Whip caster sugar and egg white and add half of the quantity into the melted chocolate and another half into the egg yolks mixture. Pour pastry flour into cake rings, baking it for 10 mins at 190°C. Freeze it placing on an icing grate.
Dark Chocolate Spread
This intense tasting chocolate spread is prepared with a cream based ganache and can be tested with one or two drop fluidity test.
Ingredients for a 500 grms Dark Chocolate Spread:
Process:
Melt the chocolate at 50°C. Now blend and mix rice oil, roasted almond paste, Pralines- Almond Pralines and Soy lecithin, bringing in to 23°C. Pour into a container and immediately leave to freeze down at 16°C.
Chocolate Brownie
This chocolate brownie is the favourite chocolate recipe and can be used to prepare the fluffy brownie cake to enjoy with some chocolate spreads or an ice cream scoop.
Ingredients for a 500 grms Brownie:
Process:
Melt butter and chocolate together at 45°C. Whisk caster sugar and whole eggs into the melted chocolate. Evenly add the pastry flour and mix well. Add smashed pieces of pecan nuts, spread on the baking tray and bake for 8-10 minutes at 180°C. Let your brownie soften and remain moist.
So, which chocolate recipe are you going to prepare today?
Keep visiting us for other Chocolate & Baking Tips to start your chocolate & baking plans and we are right here to help!