Which is the Best Stand Mixer in India?
16-03-2022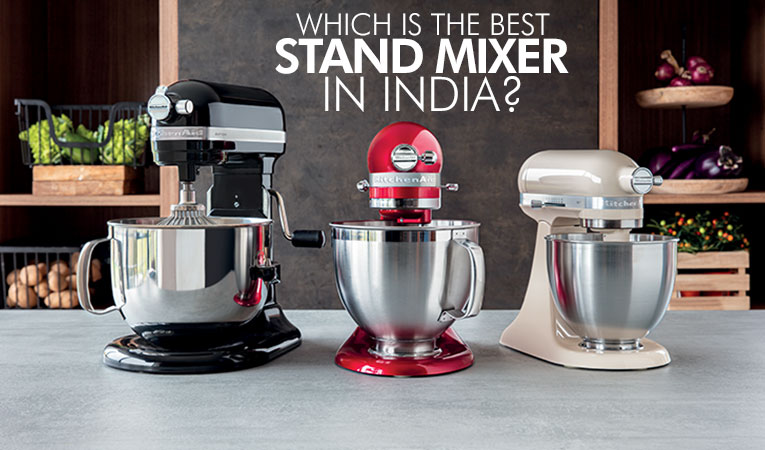 Kitchen appliances are there to help you cut down on your preparation time. Besides, it allows you to enjoy the cooking process. Today, we are going to discuss about the best stand mixer in India.
A robust stand mixer is a key element for any professional or home baker. It enables you to prepare a wide range of food items like loaves of bread, cakes, brownies, doughnuts, pastries, and so on.
What is a stand mixer?
The stand mixer is a device that comes with a rotation mechanism found on it and is attached to a bowl. It is also known as a food mixer. You can perform a barrage of baking tasks using the mixer like mixing, whipping, whisking, and kneading the dough.
Mixing by hand can be extremely strenuous and requires a lot of energy. Additionally, it helps you prepare a wide range of food items of your choice. It also encourages you to try out new baking food items in your kitchen.
Why buy a stand mixer?
As we read above, a stand mixer can help you perform your baking tasks effortlessly and help you save time. However, the performance and quality of the mixed food ingredients are exceptional.
You can notice the consistency, the silky texture of the cream, and the dough's stiffness are absolutely spot-on. You can mix the egg whites whip the cream butter & dough along with sugar instantly.
The machine offers you with adjustable speeds. Most of the appliances have a 5-10 speed mechanism. Therefore, you can begin mixing slowly and then increase the speed. Moreover, these mixers do not make noise.
They are quiet and work silently. However, when you want to mix the ingredients easily, then you might want to go with the stand mixer.
What to look for when buying a stand mixer?
Capacity or size: When choosing the stand mixer, the first thing to remember is the capacity or size. When you plan to prepare large batches of cookies or bread, you need large bown and heavy duty mixer. However, you can select a smaller stand mixer, if you are a hobby bakers and bakes occasionally or in small batches.
Ease of use: Ease of use is another important factor. You do not want to be struggling with too many features on the model. Though the mixer comes with 10 attachments, you should be able to use them easily.
Maintenance: Maintenance is the next thing to check. The stand mixer should be easy to maintain. You do not want to be struggling when cleaning it or removing the stand for storage. It must be a smooth and enjoyable process.
Sales and service: The sales and service of the device is another crucial element that you do not want to miss out. KitchenAid has a professional customer service globally. As they are in the business for several decades their global presence in most of the countries is good. They are based throughout major cities & towns in India.
Value for money: The product should be an investment. You do not want to find yourself having to replace the model every alternate year. The models we have provided you in this review can last for 10 years at least.
What are the top available brands of stand mixers?
We researched and found a few names that have stood the test of time in a stand mixer. They are KitchenAid, Inalsa and Kenwood. But, without a doubt, Kitchenaid is the giant Viking of the lot, and for a good reason.
Kitchenaid has been producing the stand mixer since 1919. So, it comes as no surprise that you can find their products used by most professional bakers, chefs, and in many kitchens. Users worldwide have commended their products because of their durability, sustainability, and reliability.
The brand provides a 2-year warranty on their product. Only a brand that is confident on their products offers warranties on them. The name of the game in the stand mixer has to be KitchenAid.
Best Selling Stand Mixers
To help you choose the best stand mixer, we have researched and come up with the top three models. In addition, we have read reviews from several online retailers and combed through award-winning reviewers to make our decision.
Whether you search for a budget stand mixer or a premium model, you will want to know that the given below are the best-selling models this year.
The 3.3lts stand mixer is the ideal product for beginners. If you are a newbie to baking and mixing, then you will find this model handy. It is a compact device that does not have to occupy lot of space in your kitchen.

Moreover, it is lightweight and portable. You see, it comes with noteworthy features like compact design, a soft start, and 10-optimized speeds. You can increase the speed as you go. You can prepare close to 5 dozen cookies using the device.

The product is durable thanks to the elegant finish, chrome-plated knobs, exceptional wrap-around trim band, and a sturdy power cord location. You can prepare a wide range of baking items using this model.

Some of them include bread, cakes, and pastries. In addition, the maker provides you with a dishwasher-safe coated dough hook, 3.3lts brushed stainless steel bowl, a wire whip, and coated flat beater.

You can also use the tilt-head design to access the bowl. It is available in several colors that can blend with your kitchen décor. You cannot go wrong with Kitchenaid products in the kitchen. So, why don't you do yourself a favor and order one today?

The 4.8lts stand mixer is the most selling product for KitchenAid in India. It comes with the right size enabling you to prepare the right portions for a small family. Besides, you can make sure that none of the food goes to waste.

The model comes with 10 different attachments so that you can prepare your favorite bread, pasta, or noodles. Not to mention, you can also prepare ice cream using it. In addition, the handle is extremely comfortable to use, enabling you to prepare quantities like 4 loaves of bread and more than 3kg of mashed potatoes.

There is a 59-Point Planetary Mixing Action that comes with a precise movement. So you know that your dough, cream, and other ingredients are thoroughly mixed. It also has a 10-speed mechanism ensuring that you have the flexibility of choosing the speed.

The model comes with a coated dough hook, coated flat beater, 1-piece pouring shield, and a 6-wire whip. The dough hook and the flat beater are easy to maintain. Why not give it a try today and see for yourself?

This model is a heavy-duty model for professional bakers & chefs doing large batches. This high-end kitchen appliance comes with intense quality, a top-notch design, and a tremendous performance.

The model is produced from high-quality stainless steel that gives it an elegant appearance and ensures that it is durable. It comes with a powerful 500-watt motor and a large 7-quart bowl. Besides, you can also find that you can prepare baking food in large quantities.

It can handle more than 2kg flour at one go. In addition, the maker has provided you with 4 accessories that can help enhance your culinary delights. Perhaps, you have a large family or invite guests often to your place.

The mixer's motor is powerful, quiet, has no heating problem, and is very smooth. As a result, you can enjoy your food preparation process in the kitchen. Despite its large size, the stand mixer is extremely quiet.

It is a durable machine as it comes with a full metal body design, high precision metal gears, and you can also find metal control knobs. The product is dishwasher safe. Why not find out why this product is highly rated among users all over the world?
There you go. We hope you enjoyed reading our post on the best stand mixer in India. The KitchenAid models come in different sizes, prices, and capabilities. We can assure you that they are rated highly among users.
Don't forget to choose the right size and the appropriate price for your home kitchen. The Kitchenaid stand mixer is a fantastic investment when baking and preparing exciting dishes for your family & guests.
Why check the models on Bakerykart? You can get the best deals, we provide you with a company warranty, and all the latest colors that model is available. Why don't you turn up the heat in your culinary journey and invest in a Kitchenaid stand mixer today?