Popular Premixes for Bakery in India
19-01-2019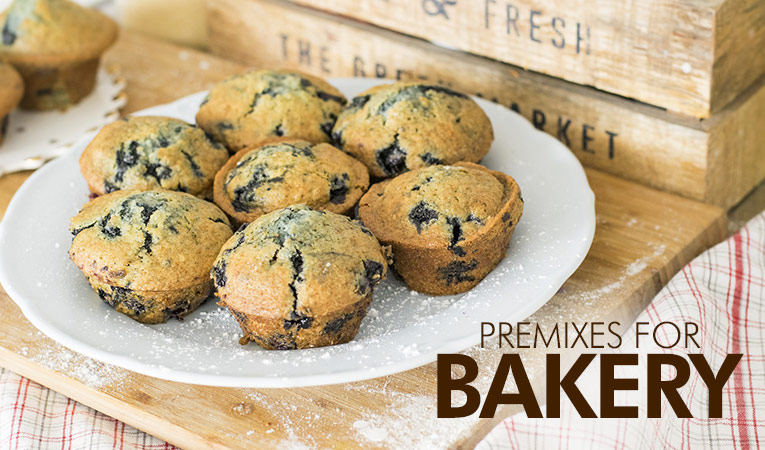 If someone asks you what is a pre-mix, your obvious answer would be – a blend of ingredients that is ready to use for the final creation. Same holds true for the premixes for bakery as well. The premixes for bakery are essentially a pre-mixed formulation of exotic ingredients to facilitate baking. These premixes for bakery can be manufactured commercially and homemade as well. However, we will focus more on the commercial bakery premixes available in the Indian market.
A premix for bakery or a bakery mix is one and the same thing. These bakery premixes are used for the elegant preparation of your delightful baking creations such as cakes, pancakes, waffles, cookies, brownies, desserts and more. For each of your creation, you can put your fingers on the bakery premix to accomplish your baking delight.
Benefits of using a Premix for Bakery
The premixes for bakery in India have come as a blessing to the bakers. These premixes have taken over the stress to pick up the right amount of raw materials for the baking delight. You can just pick up a bakery premix, add oil, water and your delicacy will be ready in minutes. There are plenty of advantages of the baking premixes, the notable ones are:
With the help of bakery premix, you get a pristine and quality end product baked with perfection.
Usage of a bakery premix eliminate the time required to measure individual ingredients.
The premixes for bakery are easy to store and stock.
Bakery Premixes simplify the process of scaling and descaling the recipe.
The most important benefit of using a bakery pre-mix is that it helps in maintaining the consistency in the quality and taste of the baked delight.
Bakery premix also helps in the final product quality control process.
The bakery premixes help you to diversify your product range and provide you with a unique opportunity to expand and experiment your repertoire. For instance, you can buy our gluten free brownie mix if you are looking forward to create delightful brownies for your clients. Simply pick up a good bakery premix, add eggs, oil and water, and you baking delight will be ready soon.
How premixes for bakery in India can help you save your cost?
The freight cost of your individual raw materials is reduced.
It helps to reduce your stock and inventory.
The scaling errors are eliminated up to a great extent
A bakery premix simplifies the complex product development process.
Popular brands of premixes for bakery in India
Pristine, Tropolite, Puratos, Midas Foods, Bob's Red Mill, Pillsbury, Bakels, Josef Marc and Bakersville are some of the popular brands of premixes for bakery in India. We have brought some of the bestselling bakery premixes for you below:
The above premixes for bakery are going to add a unique charm to your baked delights. Grab these from our online store and observe the pleasing smiles of your clients while they devour over your popular baked dishes.
For further details on our products, you can reach out to us at +91-9811122212