Can You Bake with Couverture Chocolate?
23-09-2022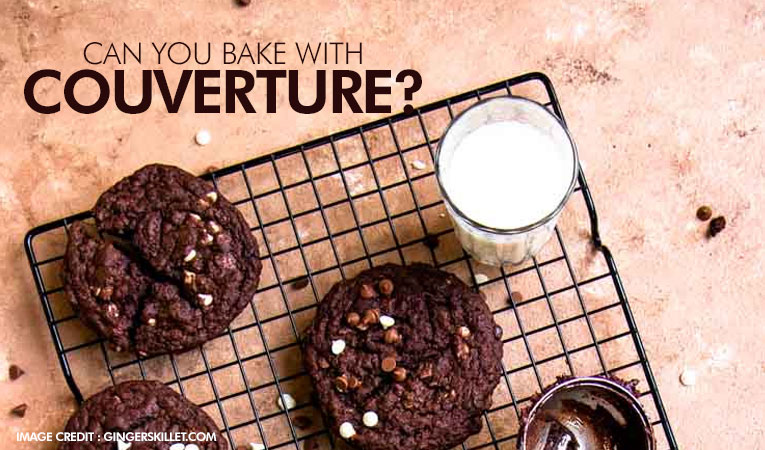 If you're not sure how to bake with couverture chocolate, we'll walk you through it in this post. In addition, you will learn about couverture chocolate, read about its uses, and discover new recipes.
Yes, we can bake with couverture chocolate.
You'll be happy to learn that you can bake with couverture chocolate. It can be used to make delectable desserts. Here are some delectable chocolate recipes for you to try at home.
What exactly is couverture chocolate?
Couverture chocolate is a type of chocolate that contains a high percentage of cocoa butter and is made from high-quality cocoa beans. As a result, they are extremely flavorful and delicious. Not surprisingly, top chefs and bakers use couverture chocolate in their creations.
Application of Couverture Chocolate
The chocolate can be used for multiple application, here some of primary applications for which they are being used:
Baking
Enrobing
Moulding
Panning
Frozen Desserts
Recipes with couverture chocolate
Couverture Chocolate is widely used by bakers and chefs to make delectable cakes, brownies, and muffins. We are pleased to share some of the most popular internet recipes.
Fudgy Chocolate Brownies – Eggless & Gluten-free
Nobody can say no to brownies. They are rich, delicious, flavorful, and extremely filling. They are simple to make at home and can be prepared by almost anyone. Deeba's recipe is eggless, one bowl, hand-mixed, whole grain, and requires only four ingredients.
Ingredients
140 g or more melted Callebaut 811 Dark
200 g sweetened condensed milk
40 g sorghum flour/jowar atta
3/4 tsp baking powder
50 g walnuts chopped
Walnut or chocolate chips
Oven, 6" square baking tin, large bowl, whisk, offset spatula
Preparation :
It takes about 15-20 minutes to prepare. That's it. You'll be done in no time.
Method :
Let's go through the steps to make our brownie.
Preheat the oven to 180 degrees Celsius and combine all of the ingredients, including the melted Callebaut 811 Dark Chocolate, in a mixing bowl.
Using a spatula, combine all of the ingredients and stir until smooth. Transfer to a prepared baking pan, even the surface with a spatula, and top with walnuts or chocolate chips as desired.
Bake the brownie for 15-20 minutes, or until the top is glossy and firm.
Remove it from the oven and set it aside to cool for 45-60 minutes on a wire rack.
Double Chocolate Lava Cake
We hope you enjoyed the brownie recipe above. Let's make a delicious double chocolate lava cake with Callebaut 80% by Barry Callebaut.
Ingredients
115g sugar
225g whole egg(s)
85g whipped egg yolk
175g melted butter
75g sifted flour
Preparation
This delicious lava cake takes around 10-15 minutes to prepare.
Method
Melt the chocolate. Pour into 2cm Flexipan moulds and allow to harden.
Combine the sugar, eggs, and egg yolks into a white, creamy mixture.
Melt the chocolate with the butter at 45°C, then combine the egg mixture with the chocolate and add the flour. Fill the moulds with the moelleux batter and insert a chocolate centre into each one.
Allow to cool in the refrigerator or freeze.
Bake for 10-15 minutes, depending on the size, at 180°C.
Double chocolate chip cookies
This is one of our favourite recipes and a great alternative to store-bought cookies by Niveditha. The cookies are tasty, gooey, and filling.
Ingredients
All-purpose flour -150 g
Natural Cocoa powder – 30 g
Baking Soda – 1 teaspoon
Salt – 1/2 teaspoon
Couverture Chocolate – 125 g.
Butter – 125 g. (Soft and unsalted)
Caster sugar – 35 g
Natural brown sugar – 90 g
Vanilla extract – 1 tsp
Large egg – 1
Mixed chocolate chips – 150-200g
Preparation
This delicious double chocolate cookies takes around 10-15 minutes to prepare.
Refrigerate the cookie dough, covered in plastic wrap.
Preheat the oven (upper and lower elements) for 10 minutes at 300 F / 150 C.
Line a baking tray with parchment paper or a Silpat and scoop out the cookie dough with an ice cream scoop and place it on the baking tray.
Repeat until all of the cookie dough has been used up. Leave a 2-inch gap between each.
Place the cookie tray on the top rack of the preheated oven and set the oven to bake mode (only the lower element).
Bake for 13-15 minutes. If necessary, rotate the tray at half time.
Remove the tray from the oven and leave the cookies to cool on the tray for 15 minutes. Place them on a cooling rack and allow them to cool completely.
Where can I buy couverture chocolate?
Given the fragile nature of couverture chocolate, we strongly advise you to buy it from a reputable retailer such as Bakerykart.
Callebaut 811 Dark Couverture, Callebaut 823 Milk Couverture, and Callebaut 80% Dark Couverture are examples of couverture chocolate. Since 1911, Callebaut has been one of the world's leading brands and the leading Belgian couverture chocolate producer.
Their products are known for their high cacao content, flavour, and distinct taste. It is a personal favourite of top baking food bloggers. Furthermore, some of the best restaurants and award-winning chefs are known to use the products.
Conclusion
We hope you enjoyed reading the post and the recipe, and that we were able to answer your question about baking with couverture chocolate.
Now, let's try ordering some couverture chocolate and making one of the recipes mentioned above. In India, the chocolates are delivered to your door within 5-7 days. Furthermore, please share your thoughts and ideas in the comments section below.