Amazing Facts about Bakery Fillings
01-01-2019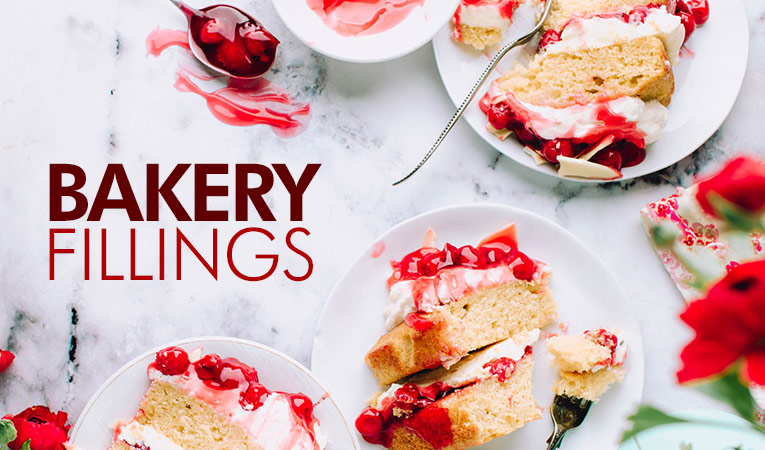 The festivities are here and this is the time to bestow your baking dishes some amazing twists with the ready to use bakery fillings. Bakery fillings shall help you enhance the texture, taste and appearance of your baked creation. They help you infuse more taste and vibrancy to the dish. Choose from a wide variety of bakery fillings available for wholesale and retail bakeries. These bakery fillings shall help you delight your customers with great taste and flavours every time they come to you. Before we proceed further, let us talk a little on the bakery fillings and their role in enhancing your baked dishes.
What is Baker Fillings?
Bakery fillings are bake stable ready to use fillings used to enhance the taste and flavours of your cakes, cookies, pies, puffs, donuts and more. These bakery fillings are made from the finest quality ingredients coming from the leading brands such as Callebaut, Delta Nutritives, Dawn Foods, Ta-Da!, Apyura and more.
Advantages of using bakery fillings
There are plenty of advantages of using bakery fillings similar to the premixes for bakery. We are pleased to share some with you before:
Bake Stable – they don't ooze out while baking
Consistent Taste – Help you retain the taste of your creation for repeat order
Long Shelf Life – Use as per the requirement of your recipe and keep the rest for next creation, since bakery fillings comes with 12 to 24 months' self-life.
Easy & Cost Effective – Element the need to investing in multiple ingredients, eliminate cooking time and make it convenient to use.
While working with the bakery fillings, it is important to achieve the right texture. Make sure to keep a good overview of the texture thereby maintaining the consistency of the filling.
What are popular types of Bakery Fillings?
There are plenty of bakery fillings available to get creative with. Nevertheless, the popular varieties are:
Fruit Fillings – These fillings have high fruit content and concentration.
Chocolate & Nut Fillings - These fillings are made out of good quality chocolates and nuts to help you add a different taste to your creation.
Confectionery Fillings – These fillings help you add a great creamy texture to your baked creation.
Bakery Filling Application areas
The bakery fillings can be used with a number of baked dishes. These can be best used with:
Cakes
Pies
Cookies
Muffins & Cupcake
Donuts
How to choose the right bakery filling for your next dish?
Choosing the right bakery filling for your baked master piece is very important to enhance the taste and texture of your final creation. These simple tips could help you choose the right bakery filling for your next creation.
Choose a bakery filling based on the type of dish you are making. For instance, if you are making a pie or a cheese cake, you should pick up a fruit filling and consider nut or chocolate filling while making a cake or dessert.
Consider the flavour of your creation and ensure that the bakery filling corresponds to the flavour well.
Take a note of the texture you are looking at. For a crunchy texture, pick up a chocolate & nut filling.
Be a little careful while using the bakery filling. The quantity should be balanced for an indulgent taste.
Top selling ready to use bakery fillings in India
We offer a wide selection of bakery fillings from Callebaut, Cacao Barry, Dawn Fruits, Ta-Da!, D Frootz and Apyura for your baked delicacies. Listed below are the top selling ready to use bakery fillings available in the Indian market.
For further queries about bakery filling and the product usage, feel free to contact us at 9811122212