Exotic Indian Dessert Flavored Fillings: Elevate Your Baking
09-06-2023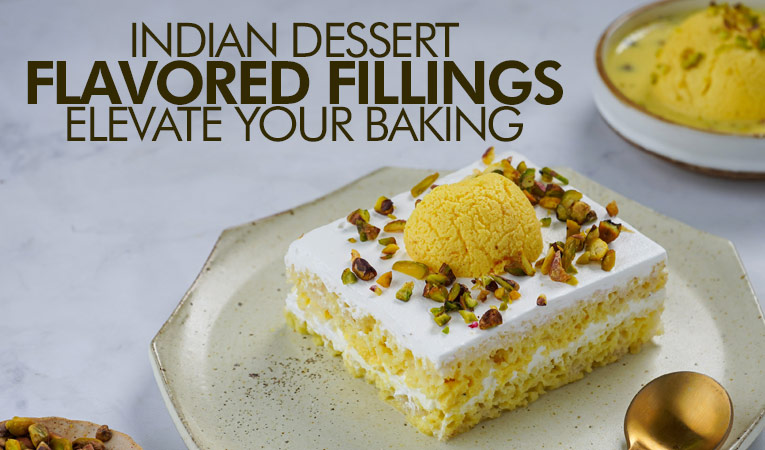 Baking is not only an art but also an opportunity to explore different flavors and cultures. If you are looking to add a touch of India to your baking creations, then exotic Indian dessert flavored fillings are the perfect choice. In this blog, we will delve into the world of Indian dessert flavored fillings, their unique characteristics, and how they can transform your baked goods into delightful masterpieces.
Overview of Indian Dessert Flavored Fillings:
Indian cuisine is renowned for its rich and diverse flavors, and Indian desserts are no exception. Indian dessert flavored fillings encapsulate the essence of traditional Indian sweets, combining aromatic spices, creamy textures, and indulgent ingredients. These fillings offer a convenient and delicious way to infuse your baked goods with the authentic taste of Indian desserts.
Why Use Indian Dessert Flavored Fillings:
Authentic Flavors: Indian dessert flavored fillings bring the true taste of Indian sweets to your baking creations. From the warm notes of cardamom to the richness of saffron, these fillings capture the essence of Indian cuisine.
Convenience: Using readymade dessert fillings saves you time and effort in preparing elaborate traditional Indian sweets from scratch. With these fillings, you can easily incorporate the flavors into your desserts without compromising on taste.
Versatility: Indian dessert flavored fillings can be used in a wide range of baked goods, including cakes, pastries, cookies, and more. They offer endless possibilities for creativity and experimentation in the kitchen.
Consistency: With readymade fillings, you can achieve consistent results every time. The carefully crafted formulas ensure that the flavors are perfectly balanced, guaranteeing a delightful taste experience.
Trending Indian Dessert Flavored Fillings:
Let's explore some of the popular Indian dessert flavored fillings that are making waves in the baking world:
Popular Ways of Using Indian Dessert Flavored Fillings in Baking:
Indian dessert flavored fillings offer endless possibilities for incorporating the exotic flavors into your baked goods. Here are some popular ways to use them:
Cakes and Cupcakes: Fill cake layers or cupcakes with Indian dessert flavored fillings to add a surprise burst of flavor in every bite. From a Thandai-filled cake to a Rasmalai-filled cupcake, the options are endless.
Pastries and Danishes: Create delectable pastries and danishes by incorporating Indian dessert flavored fillings. Imagine a flaky pastry filled with Mewa Rabri or a Danish swirl oozing with Kesar Mastani filling.
Cookies and Bars: Add a twist to your cookies and bars by sandwiching Indian dessert flavored fillings between layers. Experiment with combinations like Banarsi Paan-filled cookies or Thandai-filled bars for a unique treat.
Pies and Tartlets: Elevate your pies and tartlets by using Indian dessert flavored fillings as the base. A Rasmalai tartlet or a Dark Cherry Fruit-filled pie will surely impress your guests.
Macarons and Chocolates: Infuse macarons and chocolates with Indian dessert flavors by incorporating the fillings into the ganache or as a center filling. A Kesar Mastani macaron or a Dark Cherry Fruit-filled chocolate bonbon will be a delightful indulgence.
Tips & Tricks while Using Indian Dessert Flavored Fillings:
Pairing Flavors: Experiment with different flavor combinations by mixing Indian dessert flavored fillings with complementary ingredients like nuts, fruits, or spices to enhance the taste profile.
Balancing Sweetness: Adjust the sweetness of your desserts by adding or reducing the amount of Indian dessert flavored fillings. Taste and adjust as per your preference to achieve the perfect balance.
Decorating and Garnishing: Use traditional Indian garnishes like silver vark, chopped pistachios, or saffron strands to decorate your desserts and enhance their visual appeal.
Storage: Store unused packs of Indian dessert flavored fillings in a cool and dry place. Sealed packs can be stored at room temperature, while partly used packs should be tightly sealed and refrigerated to maintain freshness.
Conclusion:
Embrace the rich flavors of Indian desserts with the exotic range of Indian dessert flavored fillings. These fillings allow you to infuse your baked goods with the authentic taste of Indian sweets, creating a memorable experience for your taste buds. Whether you choose the aromatic Thandai filling, the indulgent Rasmalai filling, the opulent Mewa Rabri filling, the regal Kesar Mastani filling, or the refreshing Banarsi Paan filling, each bite will transport you to the vibrant streets of India.
Unlock the potential of Indian dessert flavored fillings and let your baking creations dazzle with the magic of exotic flavors. Don't miss out on the opportunity to elevate your desserts with these incredible fillings. You can conveniently purchase these products online from Bakerykart, ensuring that you have easy access to these authentic flavors.
We invite you to share your favorite Indian dessert and filling combinations in the comments below. Let us know which flavor captures your heart and tantalizes your taste buds. Don't forget to tag us on Facebook or Instagram with your delectable creations using these fillings. We can't wait to see how you bring the vibrant flavors of India to life in your baking adventures. Happy baking!