Disposable Bakeware: A Time-Saving Solution for Busy Bakers
27-05-2023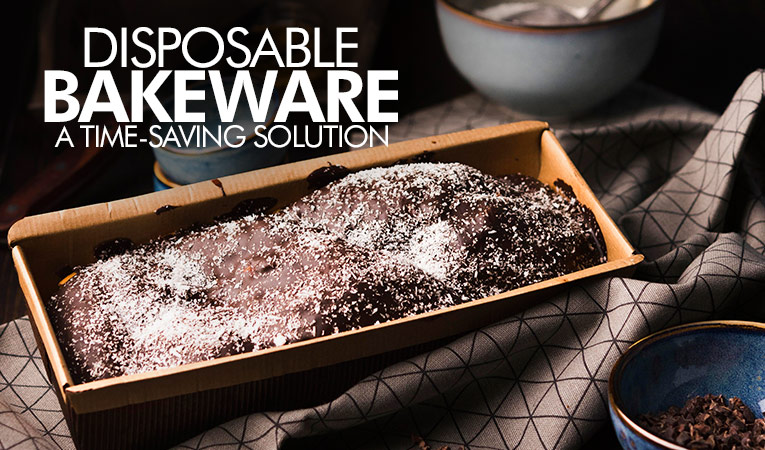 Indulging in homemade baked goodies is a delight, but the aftermath of cleaning up can be time-consuming. Fortunately, disposable bakeware comes to the rescue! In this blog, we will explore the world of disposable bakeware and its multitude of benefits. From saving precious time to offering convenient options for various baking needs, we'll uncover the advantages of using these bakeware.
When it comes to baking brownies, muffins, bar cakes, dry cakes, or preparing for special occasions, disposable bakeware proves to be a game-changer. It eliminates the need for traditional baking pans, greasing, and tedious cleanup. With these bakeware, you can effortlessly bake your favorite treats without worrying about scrubbing sticky residue or storing bulky pans.
Furthermore, disposable bakeware offers the flexibility to create stunning hampers and delightful gifts. It provides a convenient solution for packaging and transporting baked goods without the hassle of returning or retrieving bakeware. With these bakeware, you can focus on the joy of baking and sharing your delicious creations with friends and family.
Join us as we delve into the world of disposable bakeware, exploring its various applications and the freedom it brings to your baking endeavors. Get ready to simplify your baking journey with the ease and convenience of these bakeware.
Benefits of Disposable Bakeware:
Easy cleanup: Disposable bakeware eliminates the need for scrubbing and washing, allowing you to simply discard it after use. No more tedious cleaning or soaking pans for hours!
Space-saving: Traditional bakeware can take up significant storage space, but disposable bakeware is lightweight and compact, making storage a breeze. Say goodbye to cluttered cabinets!
Consistent baking results: Designed for even heat distribution, disposable bakeware ensures that your brownies, muffins, bar cakes, and dry cakes bake evenly, resulting in delicious treats with a golden crust.
Customizable options: The bakeware comes in various sizes and shapes, catering to different baking needs. Whether you're baking for a special occasion, gifting homemade goodies, or assembling beautiful hampers, there's a disposable bakeware option for you.
Convenient and hassle-free: With these bakeware, you can focus on the joy of baking and skip the cleanup process. It's perfect for busy bakers and those looking to save time in the kitchen.
Popular Choices of Disposable Bakeware: Convenient and Versatile Options
In this section, we will explore the popular choices of disposable bakeware that have gained recognition for their convenience and versatility. These disposable options provide a hassle-free baking experience while ensuring excellent performance and easy cleanup. From brownie molds and muffin liners to bar cake pans and pie molds, discover the go-to options that bakers love for their simplicity and reliability. Get ready to explore the world of popular disposable bakeware and elevate your baking game.
Disposable Bakeware for Brownies:
Discover the perfect disposable bakeware for brownies, available in sizes such as 65X65X28 mm and 80X80X40 mm. These convenient and versatile molds ensure even baking and easy release, allowing you to create delicious brownies with minimal effort. Say goodbye to the hassle of cleaning sticky pans and enjoy the convenience of these bakeware designed specifically for brownies.
Disposable Bakeware for Muffins:
Experience hassle-free baking with disposable bakeware options for muffins. Choose from a variety of muffin liners, muffin cups, and choco lava cups to create delectable treats. These disposable molds provide a non-stick surface, ensuring effortless removal and quick cleanup. Whether you're baking a batch of blueberry muffins or indulgent chocolate chip muffins, disposable bakeware for muffins makes baking and serving a breeze.
Disposable Bakeware for Bar Cakes:
Create perfectly portioned bar cakes with disposable bakeware designed for this purpose. Available in sizes suitable for 250 grms and 500 grms bar cakes, such as 165X65X45 mm and 227X70X65 mm, these molds ensure even baking and easy slicing. Say goodbye to the hassle of cutting and serving bar cakes from traditional pans. With disposable bakeware for bar cakes, you can effortlessly create and present beautifully shaped cakes.
Disposable Bakeware for Dry Cakes:
Choose from a range of disposable bakeware options for dry cakes, including round and rectangle molds. These molds provide a convenient solution for baking dry cakes without the need for traditional pans. Simply pour your batter into the disposable mold and enjoy easy release and hassle-free cleanup. Whether you're baking a classic round cake or a unique-shaped creation, disposable bakeware for dry cakes offers versatility and convenience.
Disposable Bakeware for Pie:
Discover the effortless joy of baking pies with disposable bakeware designed for perfection. Explore options like 100mm Panettone Round Mould and 120mm Panettone Round Mould for beautifully shaped pies. With even baking, easy release, and convenient serving, these disposable molds elevate your pie-making experience. Let your pie creations shine effortlessly.
Disposable Bakeware for Special Occasions:
Make special occasions even more memorable with disposable bakeware designed for birthday parties, weddings, anniversaries, picnics, outdoor parties, and more. These molds are perfect for creating impressive baked goods that suit the theme of your event. Enjoy the convenience of disposable bakeware without compromising on style or presentation.
Disposable Bakeware for Gifting:
Create thoughtful and convenient gifts with disposable bakeware that is perfect for gifting. These molds allow you to bake and present your treats without the need for separate packaging or worrying about the return of bakeware. Simply bake, wrap, and gift your delicious creations to friends and family, making every occasion more special.
Disposable Bakeware for Hampers:
Prepare beautiful gift hampers for occasions like Raksha Bandhan, Diwali, New Year, and more with the help of disposable bakeware. Popular choices include 250 grms bar cake molds, choco lava cake molds, and brownie molds. These paper molds not only simplify the process of creating gift hampers but also add an elegant touch to your presents. Enjoy the convenience and versatility of disposable bakeware for creating stunning and delicious hampers.
Tips & Tricks While Using Disposable Bakeware:
These bakeware does not typically require greasing. The non-stick coating or material used in these bakeware items allows for easy release of baked goods.
Place the bakeware on a sturdy baking tray for added support and stability during baking.
Avoid using sharp utensils that may damage or puncture the disposable bakeware. Opt for silicone or plastic utensils instead.
Keep a close eye on the baking time, as disposable bakeware may heat up faster than traditional pans. Adjust the baking time accordingly to prevent overcooking.
Allow your baked goods to cool completely in the disposable bakeware before removing. This ensures easy and mess-free transport.
Get creative and use disposable bakeware as serving containers for a convenient and stylish presentation. It eliminates the need for extra dishes and adds a touch of elegance to your baked treats.
In conclusion, disposable bakeware is a game-changer when it comes to baking convenience. From easy cleanup to versatile options, it offers numerous benefits that make it a valuable addition to any baker's arsenal. Whether you're making brownies, muffins, bar cakes, or pies, there's a disposable bakeware option to suit your needs. Remember to follow the tips and tricks provided to ensure optimal results and a hassle-free baking experience.
We invite you to share your favorite experiences with disposable bakeware in the comments below. We would love to hear about your creative recipes and innovative uses for these convenient baking tools. Don't forget to tag @bakerykart on Facebook or Instagram when you embark on your next baking adventure. We would be thrilled to be a part of your baking journey and celebrate your delicious creations.
Thank you for joining us on this exploration of disposable bakeware. We hope it has inspired you to embrace the time-saving benefits and versatility that these baking tools offer. Happy baking!