Tulip Baking Cups: Bake with Elegance
30-05-2023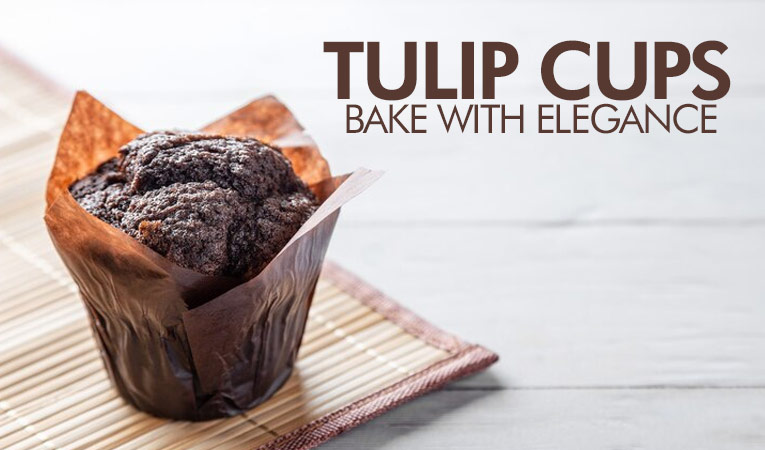 Baking is not just about creating delicious treats; it's also about presentation and making your baked goods visually appealing. One way to elevate your baking game is by using Tulip Baking Cups. These charming and elegant paper cups not only provide a functional purpose but also add a touch of sophistication to your cupcakes and muffins. In this blog, we will explore the benefits and versatility of Tulip Baking Cups and how they can enhance your baking experience.
The Versatility of Tulip Baking Cups
Tulip baking cups are a versatile and stylish alternative to traditional cupcake liners. With their unique shape and design, they add an elegant touch to your baked creations. These cups are available in various sizes and colors, allowing you to customize and enhance the presentation of your cupcakes and muffins. Whether you're baking for a special occasion or simply want to elevate your everyday treats, tulip baking cups are the perfect choice. They are not only visually appealing but also provide excellent heat distribution, ensuring even baking and perfect results every time. Embrace the versatility of tulip baking cups and transform your baked goods into beautiful works of art.
Tulip Cups are Easy to Use and Bake
Tulip baking cups are a breeze to use and bake with, making them a go-to choice for bakers of all levels. With their user-friendly design, these cups offer a hassle-free baking experience. Simply place them in your muffin or cupcake pan, fill them with batter, and pop them in the oven. No need for greasing or lining the cups beforehand. Made from high-quality, oven-safe paper, tulip cups ensure even baking and maintain their shape. They are sturdy and easy to handle, allowing for mess-free transport and serving. With tulip cups, you can effortlessly create beautiful and delicious baked treats every time.
Professional Presentation
Tulip baking cups are known for their ability to give a professional presentation to your baked goods. These unique and elegant cups add a touch of sophistication to your cupcakes, muffins, and other treats. With their distinctive shape and design, tulip cups create a beautiful and eye-catching display, making your baked creations stand out. Whether you're baking for a special occasion or simply want to impress your guests, tulip cups elevate the visual appeal of your desserts. They provide a professional and polished look, making them a favorite among bakers who want to showcase their skills and create a memorable presentation.
Heat Resistance and Easy Removal
Tulip baking cups offer the advantage of being heat resistant and easy to remove. These cups are designed to withstand high temperatures without losing their shape or integrity. Whether you're baking muffins, cupcakes, or individual desserts, tulip cups ensure even heat distribution, resulting in perfectly baked treats. Additionally, the non-stick properties of tulip cups make them effortless to remove from your baked goods. Simply peel away the paper liner, and your treats will easily slide out, leaving no residue behind. This convenient feature saves time and makes serving your baked creations a breeze. With tulip cups, you can enjoy the convenience of easy removal and impressive heat resistance for delightful baking experiences.
Environmentally Friendly
Tulip baking cups are not only functional and visually appealing but also environmentally friendly. These cups are often made from high-quality, eco-friendly materials like unbleached paper or greaseproof paper that is biodegradable and compostable. By using tulip cups, you can reduce your environmental impact compared to traditional plastic or aluminum cupcake liners. Additionally, some tulip cups are chlorine-free and free from harmful chemicals, ensuring a safer and more sustainable choice for your baking needs. Embracing the use of environmentally friendly tulip cups allows you to enjoy your delicious treats while making a positive contribution to the planet by reducing waste and promoting a greener lifestyle.
Conclusion
Tulip Baking Cups are a fantastic addition to any baker's toolkit. They offer versatility, convenience, and professional presentation, enhancing your baking experience and making your treats look truly special. With their unique shape and various designs, Tulip Baking Cups add a touch of elegance to cupcakes, muffins, and other baked goods. So, why not give them a try and take your baking to the next level? Visit Bakerykart to explore a wide range of Tulip Baking Cups and start creating stunning and delicious treats today.