Top selling novelty cake pans in India
27-11-2018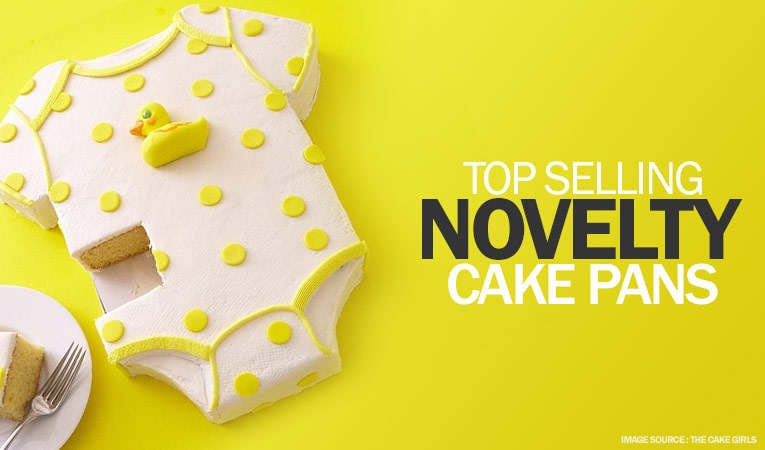 The Wedding season is round the corner and for all the upcoming baby showers, birthdays, and anniversaries, you must be looking forward to bake the best cake for your clients. Cakes are one of the crucial elements of any party happening around the world. However, at the same time it is difficult to bake the cake of the desired shape. We have the solution for you.
You can look at our extensive varieties of novelty cake pans in India. These cake pans are easy to use, convenient and easy to handle. We have such a wonderful range of novelty cake pans that will cater to all kinds of your cake baking requirements.
Do you know what the most important benefit of these novelty cake pans is? Well, that is the ease of baking and carving the cake. As far as you have these cake pans at your disposal, there is no need to hold a knife to cut the cake in the desired shape. The novelty cake moulds are designed and manufactured keeping mind your baking requirements.
Here is the list of the top selling novelty cake pans in India :
Rolex Big No 1 Cake Mould

A marvellous aluminium cake pan that will facilitate the cake baking for birthdays and anniversaries. This is one of the top selling novelty cake pans in India. It is the perfect mould for the first birthday parties or 1st-anniversary parties organised by your clients.

Rolex Big Sunflower cake mould

Getting orders for flower-themed parties? Instead of cutting the cake with a knife, bake your cake in this sunflower shaped novelty cake pan. You can bake a number of cakes conveniently with the help of these cake pans.

Rolex Princess Cart Cake Mould

For all the cute little princesses out there, you can now create your best cake creation. Get on this princess cart novelty cake pan and let your client spread a good word about you. The princess cart cake will surely add a different charm to the birthday party.

Rolex Big Guitar Cake Mould

A guitar-themed party or a cake for a music enthusiast, this guitar-shaped novelty cake pan will serve the purpose for both. The cake pan will ease out the process to bake the best novelty cakes for your clients.

Rolex Big Castle Cake Mould

Are you struggling to create a princess castle for an upcoming birthday party? Well, take a look at this big castle cake mould. This is one of our top selling novelty cake pans in India. Just pour the dough and a castle shaped cake will be in front of your eyes.

Rolex Big Tractor Cake Mould

Amidst a lot of vehicles, you can grab a chance to create a tractor shaped cake with the help of this novelty cake pan. This is a big tractor mould that is a perfect match with a vehicle themed birthday party. Moreover, this cake will be showstopper anytime soon with a child loving tractors.

Rolex Dec Star Cake Mould

Twinkle Twinkle little star, how I wonder how delicious the star cakes are. For all those sparkling parties, the star-shaped cakes are ideally perfect. Do not waste your time in cutting the shape and get our star shaped novelty cake pan to fix it right.

Rolex Big Pirate Ship Cake Mould

Themed parties are in vogue. If it is a pirate themed party, what can be better than a pirate ship shaped cake? No matter what the occasion is, the pirate ship novelty cake pan is going to enhance the charm of the occasion for sure.

Baby Pram Cake Mould

Well, this is the best cake pan for the baby showers. Your clients will drool over the baby pram and you can provide them with the right cake for the occasion. How about surprising your clients by providing them with a Baby pram moulded cake on the occasion of a baby shower. Isn't it a great idea?

Rolex Big T-Shirt Cake Mould

What a sports loving kid would want to see on his birthday? A sport's t-shirt shaped cake of his favourtite sports team may be. Take a look at this amazing T-shirt cake mould and parents who have a sport loving kid will definitely love the cake.
Now, it is very easy and convenient to purchase the novelty cake pans of your choice online. Check out to Speciality Moulds section on Bakerykart to drool over the wide range of top selling novelty cake pans in India.