The Ultimate Guide to KitchenAid Stand Mixer: Unleashing Its Full Potential
25-06-2023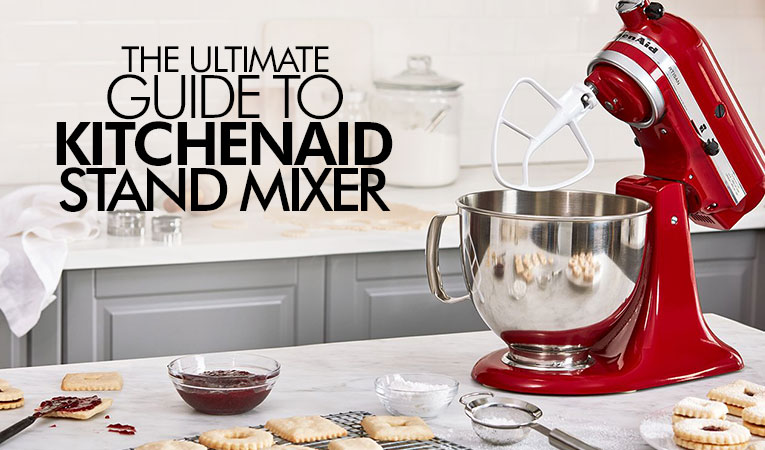 The KitchenAid Stand Mixer, a beloved kitchen appliance renowned for its power, versatility, and durability, has earned its place as a must-have tool for both amateur and professional chefs. With its robust motor and range of attachments, this iconic brand has become synonymous with exceptional performance. In this comprehensive guide, we will delve into the various aspects of the KitchenAid Stand Mixer, including its remarkable features, essential attachments for diverse culinary needs, specialty attachments for creative exploration, and valuable tips for proper maintenance. Whether you're a passionate baker or an adventurous cook, the KitchenAid Mixer is designed to exceed your expectations and empower you to unleash your culinary creativity. Join us on this journey and discover how this extraordinary appliance can elevate your culinary creations to new heights.
Understanding the KitchenAid Stand Mixer
The KitchenAid Stand Mixer is a versatile and powerful kitchen appliance designed to handle various culinary tasks. With its robust motor and planetary mixing action, it ensures thorough blending and consistent results. From kneading dough to mixing batters, the KitchenAid Stand Mixer is a reliable ally for achieving perfectly mixed recipes.
Sturdy construction and powerful motor for kneading heavy doughs and mixing batters
Planetary mixing action ensures thorough and consistent blending
Eliminates the need for manual scraping, saving time and effort
Well-designed attachments and accessories enhance versatility
With the KitchenAid Stand Mixer, you can unleash your creativity in the kitchen and elevate your culinary creations to new heights. Its robust motor, innovative features, and range of attachments make it a must-have tool for both amateur and professional chefs. Experience the joy of effortless mixing and the satisfaction of perfectly balanced recipes.
Essential Attachments for Bakers
Maximize the functionality of your KitchenAid Stand Mixer with these essential attachments, specifically designed to elevate your baking experience:
Flat Beater: This versatile attachment is perfect for mixing batter, cookie dough, and cake mixes. It ensures thorough and consistent mixing, making it a must-have for any baking enthusiast.
Wire Whip: Ideal for whipping cream, beating egg whites, and creating fluffy meringues. This attachment incorporates air into your mixtures, resulting in light and airy baked goods.
Dough Hook: Perfect for kneading bread dough, pizza dough, and other yeast-based recipes. This attachment takes the effort out of kneading by thoroughly combining and developing gluten in the dough.
Flex Edge Beater: Designed with a flexible edge that scrapes the sides of the bowl as it mixes, ensuring all ingredients are evenly incorporated. It eliminates the need for manual scraping and provides a consistent mix.
Pouring Shield: A handy attachment that fits securely onto the mixing bowl, preventing ingredients from splattering during mixing. It allows you to add ingredients gradually while maintaining a clean and mess-free workspace.
These essential attachments are designed to optimize your baking process, saving you time and effort while achieving exceptional results. Elevate your baking skills and explore a wide range of delicious recipes with the help of these indispensable attachments.
Exploring Specialty Attachments
Enhance the versatility of your KitchenAid Stand Mixer with these specialty attachments, designed to expand your culinary possibilities:
Food Processor Attachment: Turn your mixer into a powerful food processor, perfect for slicing, shredding, and dicing a variety of ingredients. From vegetables to cheese, this attachment simplifies meal prep.
Spiralizer with Peel, Core and Slice: Create fun and healthy dishes with this spiralizer attachment. Make zucchini noodles, curly fries, or even spiralized fruits for refreshing salads and desserts.
Pasta Roller & Cutter Set: Experience the joy of homemade pasta with this attachment. Roll out perfect sheets of pasta dough and cut them into various shapes, like fettuccine or spaghetti, for authentic Italian meals.
Ice Cream Maker Attachment: Beat the heat with homemade ice cream, gelato, or sorbet. This attachment churns frozen treats in minutes, allowing you to experiment with flavors and create delightful desserts.
All Metal Grain Mill: Grind your own grains for fresh flour, cereals, and bread. This attachment ensures a consistent grind and allows you to customize the texture and quality of your grains.
Each of these specialty attachments is designed to seamlessly attach to your KitchenAid Stand Mixer, providing convenience and versatility in your kitchen. Unlock a world of new possibilities and elevate your culinary creations with these innovative attachments.
Popular Applications of the KitchenAid Stand Mixer
The KitchenAid Stand Mixer is a versatile powerhouse that finds its place in a variety of culinary applications. From kneading dough for homemade bread to mixing cake batter, shredding cheese, whipping cream, and even making fresh pasta, this versatile appliance elevates your cooking and baking experiences to new heights. Explore the popular applications of the stand mixer and unlock a world of possibilities in your kitchen.
Kneading: The powerful motor and dough hook attachment make kneading dough a breeze. Whether you're making bread, pizza dough, or pasta dough, the KitchenAid Stand Mixer can handle the heavy lifting, saving you time and effort.
Mixing: From cake batters to cookie doughs, the KitchenAid Stand Mixer ensures thorough and even mixing, resulting in consistently delicious baked goods.
Shredding: With the shredding attachment, you can effortlessly shred ingredients like cheese, vegetables, or cooked meat for salads, casseroles, or sandwiches.
Stirring: The KitchenAid Stand Mixer's low-speed setting and flat beater attachment are perfect for gently stirring ingredients, such as folding in delicate additions to cake batters or mixing in chocolate chips or nuts to cookie dough.
Mashing: The power and versatility of the KitchenAid Stand Mixer make it an excellent tool for mashing cooked potatoes or other root vegetables, resulting in smooth and creamy mashed potatoes or delicious vegetable purees.
Tips for Proper Maintenance and Care
Proper maintenance and care are essential to keep your KitchenAid Stand Mixer performing at its best for years to come. Follow these tips to ensure its longevity and efficiency:
Keep it clean: Wipe the mixer with a damp cloth after each use and remove any food residue. Do not immerse the motor housing in water.
Attachments care: Hand wash the attachments with warm soapy water and dry them thoroughly. Avoid using abrasive cleaners or placing them in the dishwasher.
Regular inspection: Check the power cord and plug for any damage or fraying. Ensure all attachments are securely attached before operating.
Lubrication: Periodically lubricate the mixer's moving parts as per the manufacturer's instructions to keep it running smoothly.
Storage: Store your KitchenAid Stand Mixer in a clean and dry place, preferably with its attachments neatly organized.
Maintenance checks: Have your mixer serviced by an authorized technician if you notice any unusual noises, vibrations, or performance issues.
By following these maintenance and care tips, you can extend the life of your KitchenAid Stand Mixer and enjoy its reliable performance for countless culinary adventures.
Frequently Asked Questions (FAQs):
Q: Can I use the KitchenAid Stand Mixer for heavy-duty tasks like kneading stiff bread dough?
A: Yes, the KitchenAid Stand Mixer is designed to handle heavy-duty tasks like kneading bread dough with its powerful motor and durable construction.
Q: Are the attachments dishwasher safe?
A: Most attachments are dishwasher safe, but it's always recommended to check the user manual for specific instructions regarding the attachments you have.
Q: Can I purchase additional attachments separately?
A: Yes, KitchenAid offers a wide range of attachments that can be purchased separately to expand the functionality of your Stand Mixer.
Q: How long is the warranty for the KitchenAid Stand Mixer?
A: The warranty period may vary depending on the model and region. Refer to the warranty information provided by KitchenAid or the retailer for details.
Q: Can I adjust the speed settings of the Stand Mixer?
A: Yes, KitchenAid Stand Mixers typically come with multiple speed settings, allowing you to adjust the speed according to your needs.
Conclusion
The KitchenAid Stand Mixer is the ultimate tool for unleashing your culinary creativity. Its versatility and reliability make it an indispensable companion in the kitchen. Whether you're a passionate baker or an adventurous cook, this appliance can handle a wide range of tasks with ease. From kneading dough to mixing batters, shredding ingredients, stirring sauces, and even mashing potatoes, the KitchenAid Mixer excels in every aspect.
Visit Bakerykart to explore the wide range of KitchenAid Stand Mixers and accessories available. Enhance your culinary experience and take your cooking and baking skills to new heights. Share your experiences and love for the KitchenAid in the comments below. Let the KitchenAid be your partner in culinary exploration and enjoy the journey of creating delectable delights. Your culinary adventure starts here!