Kitchen Safety for Young Bakers: Tips to Keep Kids Safe and Happy
23-06-2023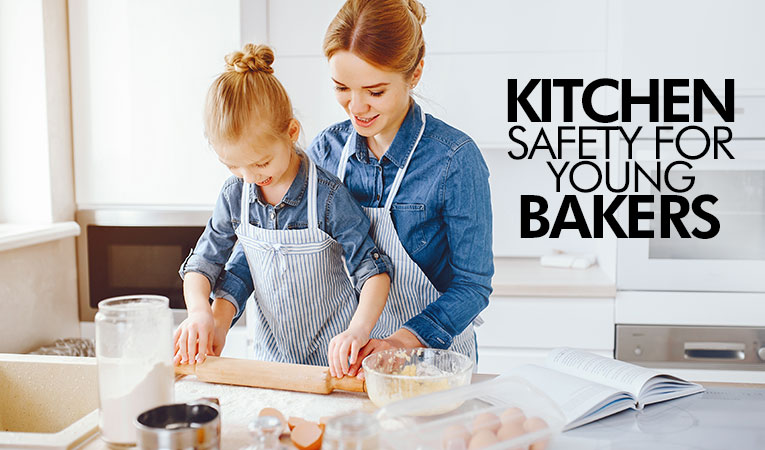 Baking with kids can be a delightful and educational experience, fostering creativity and teaching important life skills. However, ensuring kitchen safety is paramount to ensure a happy and accident-free baking session. In this blog, we will provide you with essential tips and guidelines to keep your young bakers safe while they explore the wonderful world of baking. By following these precautions, you can create a secure environment where kids can develop their culinary skills and enjoy the magic of creating delicious treats.
Kitchen Safety Tips for Young Bakers:
Always supervise: When baking with kids, never leave them unattended in the kitchen. Keep a watchful eye on them, especially when they are using sharp utensils, handling hot appliances, or working with the oven.
Teach proper handling: Educate children about safe handling of kitchen tools. Demonstrate the correct way to hold knives, peelers, and graters, emphasizing the importance of using oven mitts when dealing with hot pans or trays.
Child-friendly utensils: Provide child-sized utensils, such as plastic measuring cups and spoons, and lightweight mixing bowls. These tools are easier for kids to manage and reduce the risk of accidents.
Emphasize hand hygiene: Teach kids the importance of washing their hands thoroughly before and after handling food. Demonstrate proper handwashing techniques and encourage them to maintain good hygiene throughout the baking process.
Clear workspace: Create a clutter-free workspace by removing unnecessary items from the countertop. This minimizes the chances of accidental spills or knocking over objects.
Be cautious with heat: Teach kids to exercise caution around heat sources like stovetops, ovens, and hot pans. Help them understand the concept of "hot" and the potential dangers associated with heat.
Safe oven usage: Instruct kids to always use oven mitts when placing or removing items from the oven. Teach them to open the oven door slowly to avoid steam burns and to maintain a safe distance from the oven while it's in use.
Educate about electrical appliances: Explain the proper usage and potential risks of electrical appliances like mixers or blenders. Teach kids to handle cords carefully and never touch electrical parts with wet hands.
First aid knowledge: Ensure that you and your child have basic knowledge of first aid in case of minor accidents, such as cuts or burns. Have a well-stocked first aid kit readily available in the kitchen.
Teach fire safety: Educate kids about fire safety, including how to handle small fires and the importance of calling for help in case of a fire emergency. Make sure they know the location and proper usage of fire extinguishers.
Conclusion:
We hope these kitchen safety tips for young bakers will help you create a secure and enjoyable baking experience for your children. By implementing these precautions, you can empower them to develop their baking skills while staying safe. Remember, kitchen safety is an ongoing conversation, and it's important to consistently reinforce these guidelines with your kids. We encourage you to share your own safety tips or experiences in the comments below. Let's create a supportive community where we can learn from one another and ensure that baking with kids is a delightful and accident-free experience. Happy and safe baking!