What Is the use of Dry Yeast?
01-04-2022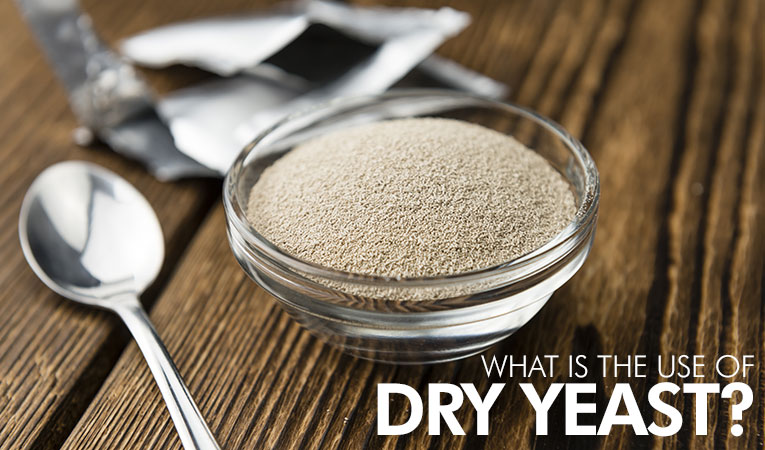 Are you planning to bake bread or perhaps a pizza? Maybe you are in the mood to have some cinnamon rolls. Though these bakery items' preparation, cooking method, and recipes are different, they all have yeast in common.
Since your childhood, you would have seen your mother or grandmother use yeast in preparing bakery items. But, perhaps, you were too young to understand and realize its application. In this post, we will look at the usage of dry yeast, the difference between dry yeast and instant dry yeast, an exciting recipe using the yeast.
You see, there are different kinds of yeasts. But they all act as a raising agent in recipes. The most commonly used types of yeast are dry yeast & instant dry yeast.
Most items like loaves of bread and cinnamon rolls use dry yeast in them.
What is dry yeast?
So, what is dry yeast? Yeast is a type of fungus that can exist in several forms. They react with sugar & starch to eliminate carbon dioxide resulting in the dough rising.
It is also known as the active yeast and should be refrigerated for better shelf life. You can refer to this video on activating dry yeast for a complete step-by-step process.
Difference between dry yeast & instant dry yeast
If you are confused about which type of yeast you should use for your baking, you're lucky. Here is a handy note on the main difference between dry yeast and instant dry yeast.
| | | |
| --- | --- | --- |
| | Dry Yeast | Instant Dry Yeast |
| Activation | Yes | No |
| How to Use | Mix it with Warm Water & Sugar to prove | Simply mix with Dry Ingredients |
| Rising Time | More Time | Less Time |
| Texture | Larger Granules then Instant Yeast | Smaller Granules |
| How to Inter Change? | Increase Baking Time by 10 to 15 Min. | Reduce Baking Time by 10 to 15 Min. |
| Storage | Store in Air Tight Container in Refrigerator | Store in Air Tight Container in Refrigerator |
| Shelf Life | Approx 2 Years | Approx 2 Years |
How to use dry yeast & instant dry yeast?
We hope you have understood the difference between dry yeast (active dry yeast) and instant try yeast. Let's further read on to understand the application process.
How to use active dry yeast?
To activate the yeast, prepare a ¼ cup of warm water, add a teaspoon of sugar, and the amount of yeast mentioned in the recipe.
Quickly stir the mixture and allow it to rest for 5–10 minutes. If the yeast is working, it will start to foam and bubble.
You can then combine the activated yeast mixture into the bread dough.
Once you have prepared the dough, you need to place it in a warm place for the proofing process. You will be astounded to watch the dough rise elegantly. Now, you can prepare bread, pizzas, and rolls using the dough.
How to use instant dry yeast?
Take the amount of instant dry yeast as per the receipt and mix it with the dry ingredients.
Now follow the steps mentioned in your receipt to mix the dry and wet ingredients and knead the dough to prepare bread, buns, or pizzas.
Note: Hydrate the yeast in ¼ cup of warm water in a cup and let it sit for 10 to 15 min. If you notice a foam created on top of the surface means the yeast is alive.
Popular Bread recipes using dry yeast
You use dry yeast to prepare the bread of your choice. The baking recipes do not normally take a long time to prepare. For starters, you can begin by learning how to activate the yeast properly through this video.
Preparation time:
It takes 60 minutes to prepare the recipe.
Ingredients:
793 grms all purpose flour
2 Cup warm milk, between 105–115 Fahrenheit
57 grms sugar
10 grams instant yeast
Egg wash
57 grms melted unsalted butter
1 ½ tsp salt
Method:
Refer to this Fast Bread Recipe video for a complete step-by-step process.
Take a pan and heat milk to 105–115 Fahrenheit.
Take a mixing bowl and combine flour, instant yeast, sugar, and milk mix for one minute using dough hook attachment of hand mixer on speed 1.
Add salt and melted butter to the mixture.
Add more flour if the dough is not sticking to the bowl due to butter and some water.
Now mix for 5 minutes on speed 2.
After 5 minutes, check if the dough has developed enough gluten. If not, then mix it for 2 more minutes.
Now knead the dough on a lightly floured surface until you can form a smooth ball.
Place the dough inside a large bowl covered with a cloth in a warm place for 25 min after greasing them with olive oil.
Preheat your oven to 180 Degree Celsius.
Split your dough into two portions and let them rest for 5 minutes.
Brush your loaves with egg wash to get a nice golden-brown color.
Use a bread lame for scoring three slits on top of the loaf, about 1/4" deep. These slits make the loaves look nice and keep the crust from tearing during baking.
Bake your loaves for about 25-30 minutes or until golden brown. After taking it out from the oven allow the bread to cool on a wire rack.
Conclusion
We have come to the end of our post on what is the use of dry yeast. We hope that you found it enjoyable and understood its applications. We hope this article will help you select the correct yeast for your recipe.
Both instant dry yeast & dry yeast are suitable for preparations like quick rolls, buns, and bread. So why don't you place an order on Bakerykart today and prepare your favorite bakery dishes? Do let us know your thought on our post in the comments below.