Elevate Your Baking Skills with Food Writing Pens
30-05-2023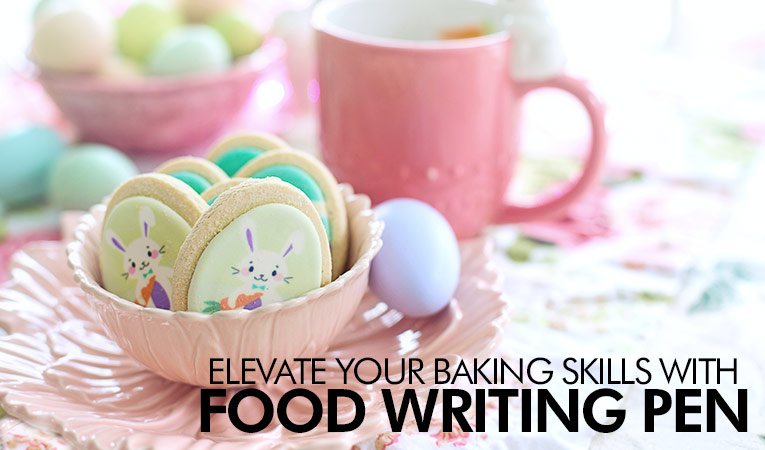 If you love food as much as we do, you'll know there's nothing quite as satisfying as sharing your culinary adventures with the world. And what better way to do that than with a food writing pen?
Food writing pens are like magic wands for foodies. With just a few strokes of the pen, you can conjure up mouth-watering descriptions of your favourite cookies, and transport your cake into your loved one's fantacy by creating designs on the fondant.
Whether you're a professional chef or a home baker, a good food writing pen is an essential tool in your arsenal. So, grab your seat, and join us as we explore the food writing pens. From calligraphy to graffiti, we'll take a bite out of every aspect of food writing and show you how to make your words as delicious as the dishes they describe.
Application Area of Food Writing Pen
Here are a few ways you can put your edible marker pen for cake decorating:
Decorating cakes and cupcakes: Use your food writing pen to decorate your cakes and cupcakes with intricate designs, messages, or even your favourite quotes on the fondant/royal icing. You can use different ink colours to create a rainbow of hues or experiment with different writing styles to add some flair.
Labelling baked foods: Use your food writing pen to label your baked foods with the name of the dish and the date you made it. This will help you keep track of how long your treats have been sitting out and when they're due to expire.
Personalizing cookies: If you're giving away freshly baked cookies as gifts, use your food writing pen to add a personal touch. You can write the recipient's name, a message, or even a special quote that's meaningful to both of you.
Edible notes: Use your food writing pen to create an edible personalized note for your loved one. Whether it is a special occasion like Valentine's Day or you just want to make a day memorable for someone special, use the edible marker pen to create notes that they can not just read but also enjoy.
Displaying your creations: Use your food writing pen to create beautiful display cards for your baked foods. You can write the name of the dish, the ingredients, and even the recipe on the card, along with a little note about what makes the dish special.
Popular Food Writing Pen Range
Here are a few of the edible colour pens/markers, along with some ideas for how you can use them:
No matter which edible colour marker you choose, you can be sure that your baked dishes will look and taste amazing.
Conclusion
One of the best things about these food writing pens is their ease of use. Simply remove the cap and start writing! The fine tip makes it easy to create intricate designs and messages, while the bold colours make your creations pop.
Whether you're a professional baker or just a home cook who loves to get creative in the kitchen, edible colour markers are a must-have tool. So why wait? Order your set today from Bakerykart and start creating edible masterpieces that are as beautiful are delicious!