Delivery was just in time within 48 hours
09-05-2018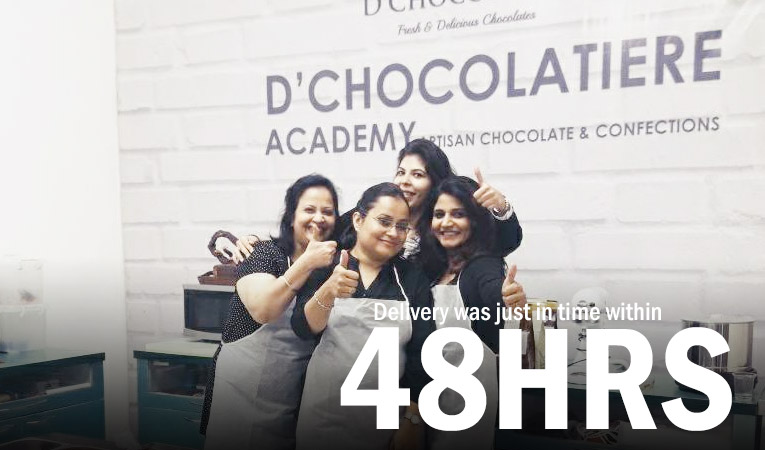 Deepika Namdev is founder of D Chocolatist (Indore) and an internationally certified chocolatier from Academy of Pastry Arts Malaysia & Callebaut Chocolate Academy Belgium. After completing her masters in International Business Operations & have worked in core management in corporate companies for more than 15 years, she has taken her interest in chocolatier ahead as her another profession, to which she calls it her day & night obsession.
"Chocolate is just not a piece of sweet, but a whole world of experience to share and memoir, of the art that reflects on this luscious ingredient", she says.
At D Chocolatiere Academy you learn under internationally trained professional with Full Hands practical training on techniques, recipe formulations & in-depth understanding of ingredient "Couverture Chocolate" to bring in the craftsmanship in you and achieve the master skills.
She recently speaks about her experience of shopping with Bakerykart. This order was on behalf of one of my student who was little sceptical to ordering online but trust me throughout the order till delivery everything went smoothly & hassle free.
What prompted you to buy from Bakerykart?
Online availability of couverture chocolates, cocoa butter colours & various other quality ingredients with door step delivery.
How was your buying experience with Bakerykart?
I am completely impressed with well sorted store, buying was hassle free.
How was your experience with our delivery? Did we meet your expation?
Theirs no doubt to Bakerykart commits, the order was delivered within 48 hours! So, you can rely on Bakerykart for your critical order and trust them.
How had your experience been with our customer service?
Bakerykart team had been in touch from the time of order confirmation till the delivery and I was keep well informed about my order, excellent service!
Would you recommend Bakerykart to others? If so, why?
Offcourse, its easier to get the best quality & branded products on your doorstep!
What else would you like us to know?
I would like Bakerykart to introduce more products from brands like Valrohna, Pavoni, Silikomart, Martellato, Matfer, machines that are not even available online.