Unleash the Magic of Chocoville Cocoa Powder: A Delight for Hobby Bakers
24-06-2023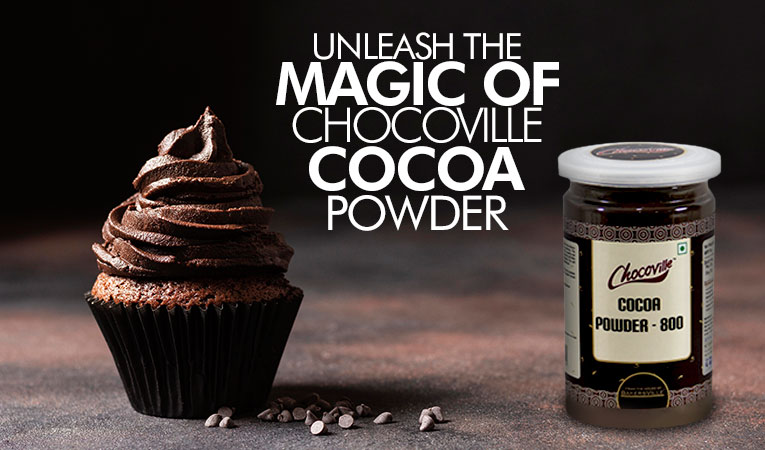 Discover the extraordinary world of Chocoville Cocoa Powder, an exquisite product crafted by Bakersville India. In this blog, we will take you on a delightful journey, exploring the wonders of this Cocoa Powder and why it is the perfect choice for hobby bakers. From its convenient smaller pack size to its exceptional quality and captivating flavors, Chocoville Cocoa Powder is sure to elevate your baking creations to new heights. Join us as we delve into the key highlights and range of Chocoville Cocoa Powder, and let the magic of cocoa unfold before your eyes.
Benefit of Using Smaller Packs for Hobby Bakers
For hobby bakers, precision is key. The smaller pack size of Chocoville Cocoa Powder, available in convenient 150-gram packs, offers several benefits. Firstly, it ensures that you have just the right amount of cocoa powder for your recipes, minimizing wastage and allowing for precise measurements. Secondly, the smaller packs are easier to store, saving valuable space in your pantry or kitchen cupboard. Lastly, the compact size helps preserve the freshness and quality of the cocoa powder, ensuring that each bake delivers exceptional flavor.
Optimal Quantity: The smaller 150-gram packs of Chocoville Cocoa Powder are thoughtfully designed to cater to the needs of hobby bakers. With the perfect quantity of cocoa powder, you can achieve consistent and delicious results in your baking projects without the hassle of measuring and storing large quantities.
Convenient Storage: The compact size of the smaller packs makes them easy to store and organize. Whether you have limited space in your kitchen or prefer a clutter-free baking area, the smaller packs fit seamlessly into your baking essentials collection.
Freshness and Flavor: By using smaller packs, you can ensure that your Cocoa Powder remains fresh for a longer duration. The airtight packaging helps preserve the rich aroma, intense flavor, and velvety texture of the cocoa powder, ensuring every bake is a delightful experience.
Why Choose Chocoville Cocoa Powder?
Chocoville Cocoa Powder stands out as the preferred choice for hobby bakers for numerous reasons. Let's explore why Chocoville should be your go-to cocoa powder for all your baking endeavors.
Unparalleled Quality: Chocoville Cocoa Powder is meticulously crafted using the finest cocoa beans, ensuring exceptional quality and consistent results. Bakersville India takes great pride in delivering a premium product that upholds their commitment to excellence.
Captivating Flavor Profiles: Chocoville offers a range of cocoa powder variants, each with its own distinct flavor profile. From the intense and irresistible Black Magic Cocoa Powder to the rich and velvety Dark Brown Cocoa Powder, and the natural and aromatic Baking Cocoa - Natural Cocoa Powder, there is a variant to suit every baking recipe and preference.
Versatility in Baking: The Cocoa Powder lends itself to a wide array of baking creations. Whether you're indulging in sumptuous cakes, decadent brownies, or irresistible hot chocolate, the Cocoa Powder infuses your treats with deep, chocolaty goodness.
Chocoville Cocoa Powder Range by Bakersville India
Discover the exquisite Chocoville Cocoa Powder range by Bakersville India. From the intense and mesmerizing Black Magic Cocoa Powder to the rich and indulgent classic Cocoa Powder, and the versatile Baking Cocoa, experience the finest quality cocoa for all your baking and cooking needs. Elevate your creations with Chocoville's exceptional cocoa powders.
Discover the captivating allure of Chocoville Black Magic Cocoa Powder. With its deep, intense flavor and mesmerizing black color, this cocoa powder adds a touch of mystery and elegance to your culinary creations. Perfect for creating visually stunning desserts, cakes, and cookies, it brings a unique and indulgent experience to your baking endeavors. Unlock the magic of this extraordinary cocoa powder and let your imagination run wild in the realm of chocolatey delights.

Experience the richness and depth of flavor with this Cocoa Powder. This premium cocoa powder brings a delightful touch of indulgence to your baked goods. With its dark brown hue and robust flavor profile, it adds a luxurious element to cakes, cookies, and hot chocolate. Whether you're a professional baker or a passionate home cook, this Cocoa Powder is the perfect ingredient to elevate your sweet treats. Unlock the true essence of chocolate and savor every bite with this exceptional cocoa powder.

Unleash your culinary creativity with Chocoville Baking Cocoa. This natural cocoa powder is a versatile ingredient that adds a touch of pure, rich chocolate flavor to your recipes. Its delicate aroma and well-balanced taste make it an ideal choice for both sweet and savory dishes. From decadent cakes and cookies to savory sauces and marinades, Chocoville Baking Cocoa enhances the taste and elevates the overall culinary experience. Indulge in the authentic essence of cocoa and delight your taste buds with the superior quality of Chocoville Baking Cocoa. Explore the endless possibilities and let your culinary creations shine with this premium cocoa powder.
Conclusion
Embark on a magical baking journey with Chocoville Cocoa Powder, available on Bakerykart, and elevate your creations with the finest quality cocoa powder. Experience the convenience of the smaller pack size, the exceptional flavor profiles, and the unrivaled quality that Chocoville offers. Join the Bakerykart community and share your love for these divine cocoa powders in the comments below. Let us know which variant is your personal favorite and how Chocoville has transformed your baking adventures. Indulge in the enchantment of Cocoa Powder and savor the blissful joy of creating delectable treats that will leave you and your loved ones craving for more.