Top Selling Wilton Color Sets in India
09-03-2020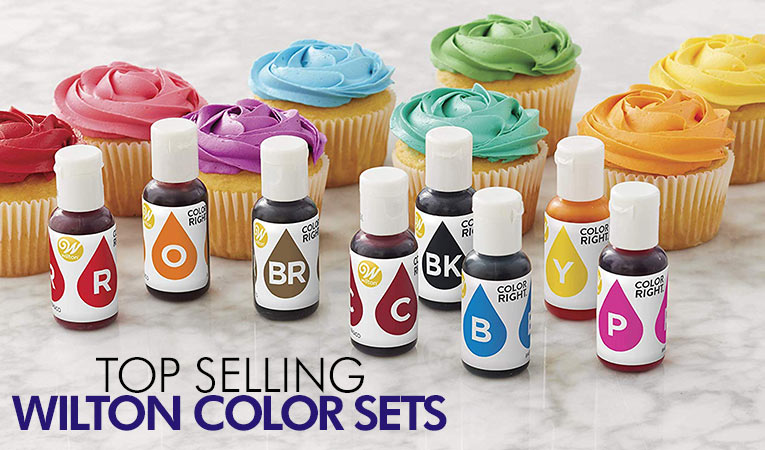 With over 85 years of experience in making every little moment 'sweeter', Wilton Brands, LLC offers a wide range of bakeware, baking and decorating tools, ingredients, display and storage items, and recipes and decorating ideas for every celebration – Wilton color being one of the most loved products by bakers. Wilton believes in maintaining a perfect balance in its offering - the classics are intact while new products and ideas are added to the list as and when the trends change.
Wilton is a one-stop-shop for all your party needs – from ideas to execution, Wilton has something to offers at every step. Make every celebration count with the right products and ideas and get famous among your loved ones for your party planning skills.
About Wilton Colors
In this time and age, special occasions, no matter how small or big, are planned with the utmost precision. Themes are decided after many deliberations. Every single item related to the party is then matched with the theme, be it the dress code, the invitation cards, the party favors, the decorations and even the color of the baked goods. In this article, we are specifically going to focus on the most famous product in the ingredients section from Wilton Brands, LLC – Wilton colors.
Using traditional colors for food coloring is passé. As discussed above, it is all about precision nowadays. If the food colour does not match exactly with the theme, it looks like a half-baked effort – and no one wants to be called sloppy when it comes to planning a party. And for getting the desired results when it comes to food coloring, highly concentrated colors work like wonder. This is where Wilton colors come into play. The ultra-concentrated base colors combined with color formulas help you create beautiful shades for your royal icing, buttercream or fondant.
Further, the Wilton color chart ensures that you get the right color for your celebration every time. No need to pick separate colors and try to match them with your theme anymore. Wilton color chart helps you mix different shades and create the right colors with ease.
Why Choose Wilton Colors?
Here are some of the best reasons why you should choose Wilton colors for food coloring for your parties:
It's in the name: Wilton Brands, LLC is in the business of helping you plan and execute the best parties for almost 85 years. One of the top reasons for choosing Wilton colors is the sheer experience the brand has, which gives them an edge over other brands and makes them experts in what they do.
The wide range: When it comes to party planning, Wilton offers all kinds of tools, ingredients and ideas for every occasion. Choosing your food colors from the same place as your bakeware and décor ideas is a much better option than picking stuff from different places.
The concentration: Again, this is one of the most crucial reasons why you must choose Wilton Colors Set over any other traditional food colors. Wilton colors are highly concentrated, providing you the best shade every time for your desserts without watering down your icing or batter.
The color chart: As mentioned earlier, Wilton color chart helps you create store-like hues at home in a jiffy. No more compromising – get the exact shades you want on your cupcakes or cakes and make these colors match with the theme of your party or celebration.
Wilton Colors – The Best Buys
To help you choose the right Wilton colors for your next party planning, we have collated a list of Top Selling Wilton color sets in India:
Whether you are planning a small gathering or a big party, if the desserts does not look delicious, people may just end up ignoring them, no matter how good they taste.
So, during parties, how good your desserts look is equally important as how good they taste. Ensure you make the most beautiful cupcakes or cakes and desserts for your beautiful party. While all Wilton colors are famous amongst bakers and baking enthusiasts in India, some of the Wilton color sets are especially loved – we have collated a list for you above to choose the right one for your party preparations. Getting your hands on a set of colors instead of going for single colors also give you an option to create more colors by blending the colors from the set. Visit Wilton brand store on Bakerykart to choose the right food colors for your baking needs and to also get some amazing party ideas.